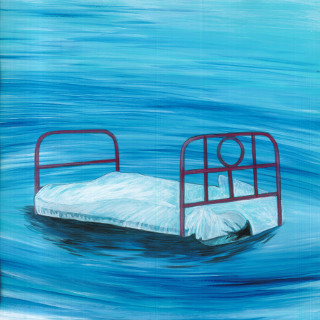 Hailing from Taranaki, New Zealand, The Doublejumps are a three-piece rock band with a magnetic blend of male and female vocals from Kayleb Duckett and Olivia Day. Behind the kit, Rodney Cruden-Powell's drumming skills are unparalleled. The band's songwriting is a hallmark of their musical identity – uniquely experimental yet undeniably accessible. The Doublejumps are redefining rock, and they're just getting started.
From the very first listen, "Asleep At Lunchtime" grabs your attention with its infectious hooks and catchy melodies. The band's close harmony vocals, courtesy of Kayleb Duckett and Olivia Day, form the backbone of the album, creating a mesmerizing and immersive sonic experience. Despite being home recorded and produced, "Asleep At Lunchtime" boasts a level of production quality that rivals studio-made records. The band's commitment to their craft and attention to detail shines through, making each song a captivating and unforgettable journey. This debut album is a testament to their artistry, passion, and dedication, setting the stage for a promising career ahead.
Listen to the first four songs taken from "Asleep At Lunchtime" by The Doublejumps here. Preorder your copy now.