The Debts.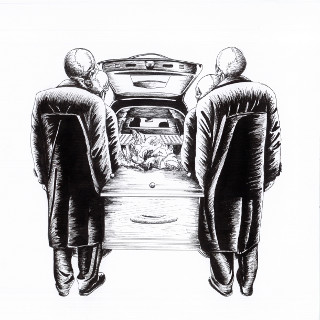 "Customer Service" is The Debts' "Tanglewood Numbers." It shows the band at its fullest, and most collaborative, while retaining the home-recorded looseness of earlier Debts' releases. Pulling inspiration from the early 2000's indie rock, The Debts are trying to unearth some precious metals left over from the pre-social media age.
The Debts are a revolving cast of artists and musicians interpreting the songwriting of Dane Sybrant. Sometimes The Debts is Dane alone, sometimes the collaborators take over. Such is the case with their new album "Customer Service".

Somewhere, beneath a house, a storm-cellar in the western mid-west holds the body of Dane Sybrant, singer and songwriter of the eastern CO band The Debts. Lonely and terrified, he wonders if he will ever escape. Will it be before the album is made? Will he have a chance to hear the songs before they are released to the world? Is this rat going to eat his shoe?
The Debts have been the creative outlet of Dane for the last nine years. Releasing numerous cassettes, lathe cuts and even a split LP with legendary Shrimper Records head-honcho Dennis Callaci (Woods, Mountain Goats, Kevin Morby), The Debts have been fairly active in the home-fi underground since 2011. Spawned in the basements of Omaha, NE , The Debts have been a strictly 4 track noise folk group up to this point, unable and unwilling to take a step into a studio, professional or otherwise.
Things changed in April of 2018. In an effort to expand The Debts sound, Dane gathered a group of disparate misfits and music makers to craft an album of varying style and substance. Quickly realizing this could never be done with the megalomaniac songwriter hanging around all the time, the band promptly sacked Dane, threw him into a windowless van, and drove him to an undisclosed location to "cool his heels" for the remaining studio time.
The result is "Customer Service", an album that echoes the emergent indie rock of the early 2000's. Pulling from influences such as Built to Spill, Bright Eyes, and Pedro the Lion, "Customer Service" is cleaner, faster and heavier than the dark, folkish noise collages of previous work.
The vision achieved, the disparate misfits unlocked Dane from his bindings and faded into the mists of chaos, leaving Dane relieved and breathing hard, but wondering…….. "How the hell am I going to play this live?"

A team of three record labels joined their efforts to release "Customer Service", a corelease between Almost Halloween Time Records, Eastern C Records and Kerchow Records & Tapes.

Almost Halloween Time Records' version is a limited edition of 37 copies. All covers are different, painted one by one by for you and only you.