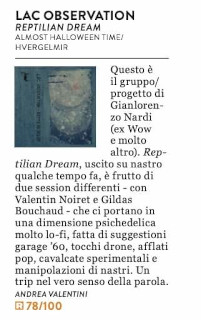 Andrea Valentini reviews Lac Observation's "Reptilian Dream" for Rumore.
Translated here:
This is the group / project of Gianlorenzo Nardi (ex Wow and much more). Reptilian Dream, released on tape some time ago, is the result of two different sessions – with Valentin Noiret and Gildas Bouchaud – which take us into a very lo-fi psychedelic dimension, made of garage '60 suggestions, drone touches, pop breaths, rides into the experimental and tape manipulations. A trip in the true sense of the word.
Listen to "Reptilian Dream" by Lac Observation here .