According to Goth Wiki, Theda Bara, born Theodosia Burr Goodman, is America's First Goth – Film Actress.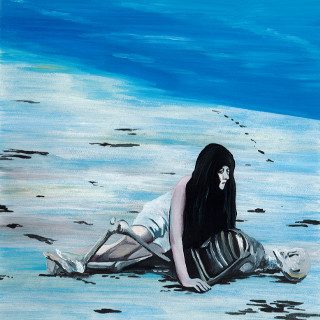 Bara was one of the most popular actresses of the silent era, and one of cinema's earliest sex symbols. Her femme fatale roles earned her the nickname The Vamp, short for "vampire".
The word bara in Italian identifies a coffin.
All copies of Kiss Hello's "Songs For Shell Beach" are customizable, in the sense that you can choose who to appear on the beach.
The portrait of Theda Bara is inspired by a photo I found on the internet, of which unfortunately I don't know the author.
The digital version of "Songs For Shell Beach" contains two bonus tracks, the vinyl is customizable.