The Better Half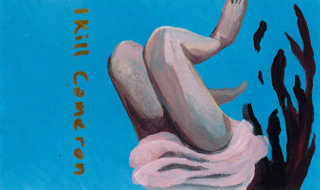 In importing the posts of the old version of the Almost Halloween Time Records website to the new one, I realized that for some releases the introductions are a bit concise. But it is not too late.
Kill Cameron's "The Better Half" came out on AHT in 2014. I remember that time well, I was painting during the lunch break of the new job I'd just been hired for. Short but intense sessions. I slept little and was always tired, but I couldn't help but find a spare time for my beloved label, and so I took paper, brushes and paints with me and shut myself up in my uncles' country house.
I Kill Cameron is the project of Phoebe Munoz, the first female voice to become part of the AHT family. She contacted me and I was immediately convinced by her songs.
One woman angsty folk ukulele music, punk folk or as Joshua Macala at Raised By Gypsies pointed out: "as innocent as this music sounds and might seem at times, it also has an edge to it that can be filled with such anger. It reminds me of that one psycho ex-girlfriend we have all probably had who will be ready to stab you with a kitchen knife one moment and then laughing their ass off the next."
I have this vague memory of Phoebe responding to the review with a "Heck yeah I am!"
I lost track of her after "The Better Half" was released but I know Phoebe kept writing and producing new songs as I Kill Cameron as well a member of Dandelion Massacre.
All songs on this cassette are written by Phoebe except "Lokeigh's song" which was written by Lokeigh and "Tonight (You Belong To Me)", a Patience and Prudence song, that they probably didn't write it either.
The story of how "The Better Half" came together is rather personal, super personal and I know how to keep secrets, but you can imagine it, since the lyrics are rather explicit.